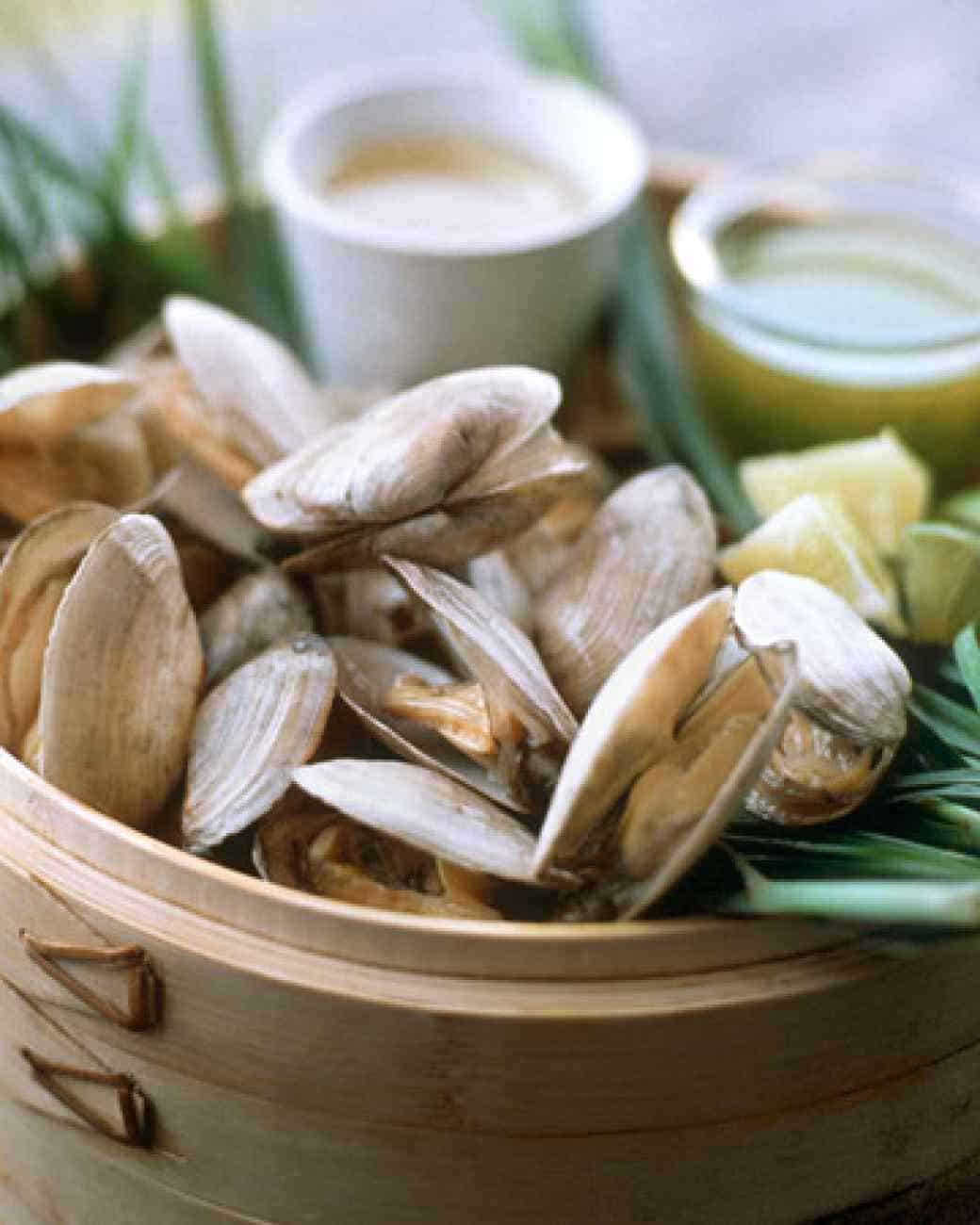 Steamers with Asian Broth and Cilantro Butter
Author:
Martha Stewart http://www.marthastewart.com/354989/steamers-asian-broth-and-cilantro-butter
Ingredients
1 cup unsalted clam juice
1 cup loosely packed Thai or regular fresh basil leaves
1 2-inch piece lemongrass, coarsely chopped
3 tablespoons fresh lime juice
1 tablespoon Asian fish sauce (nam pla)
1 teaspoon salt
1 cup loosely packed fresh cilantro leaves
¾ cup (1½ sticks) unsalted butter
8 pounds steamers (littlenecks or cherrystones can be used instead), scrubbed
3 limes, cut in wedges, for garnish
Instructions
Combine 2 cups water, clam juice, basil, lemongrass, lime juice, fish sauce, and salt in a stockpot; bring to a boil, reduce heat, and simmer until well flavored, about 30 minutes.
Meanwhile, combine cilantro and butter in food processor; mix until cilantro is in tiny flecks. Set aside in a small saucepan.
Pass liquid in stockpot through cheesecloth-lined strainer. Return to stockpot over medium-high heat. Add clams (use a bamboo steamer if desired); cover pan. Cook until clams open, 10 to 12 minutes; discard unopened ones. Melt the cilantro butter. Transfer the clams to a serving bowl, and strain the broth through a cheesecloth-lined strainer.
Serve clams with lime wedges, broth for rinsing off sand, and butter for dipping.
To See the full recipe page please visit   http://www.marthastewart.com/354989/steamers-asian-broth-and-cilantro-butter