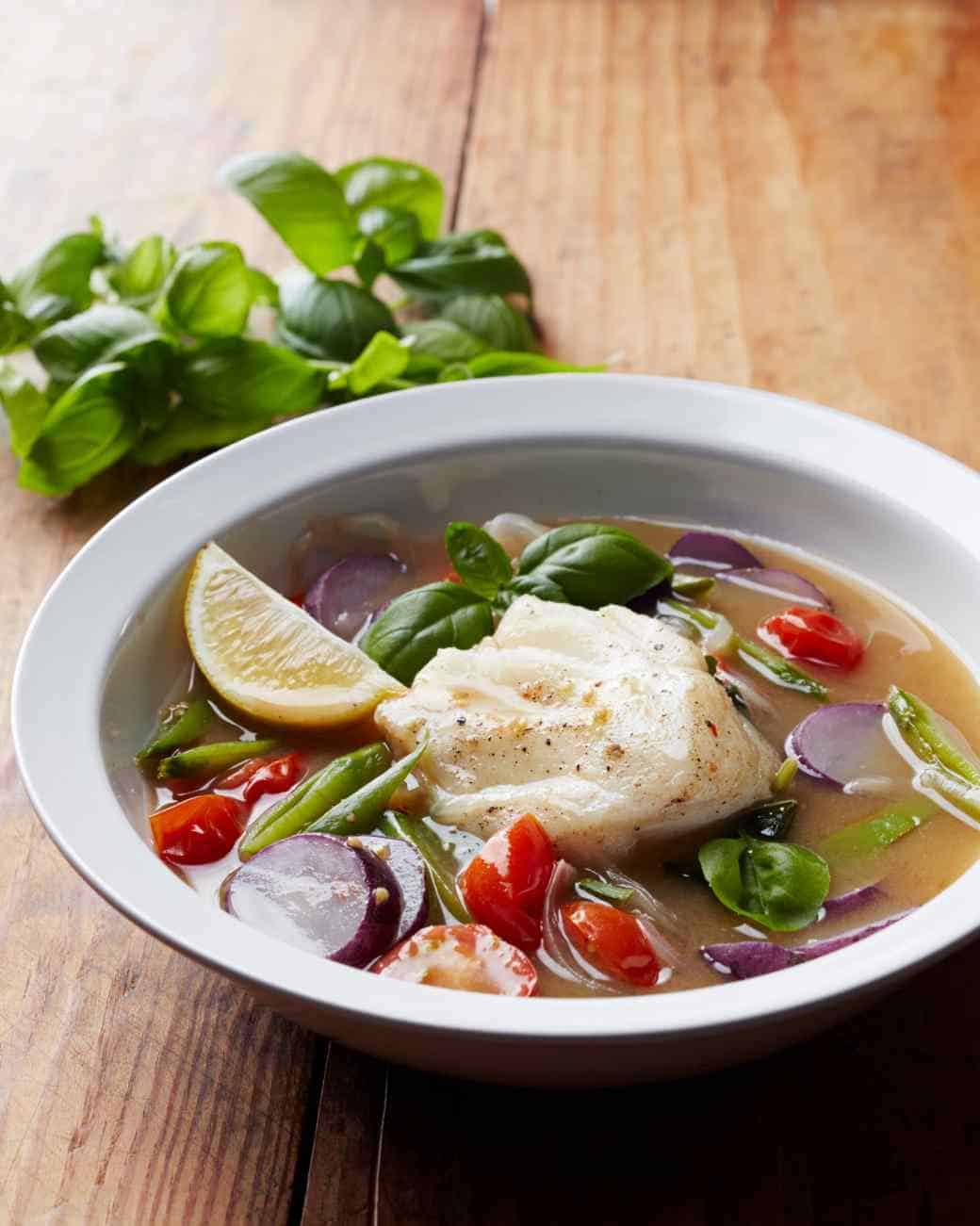 Poached Cod With Tomatoes
Author:
Martha Stewart http://www.marthastewart.com/1085429/poached-cod-tomatoes
Ingredients
3 cups low-sodium chicken broth
½ medium red onion, very thinly sliced
2 cups cherry tomatoes, cut in half lengthwise, divided
½ pound small potatoes, preferably fingerling and purple, sliced into ¼-inch rounds
3 sprigs basil, plus leaves for garnish
¼ teaspoon red-pepper flakes
Coarse salt and freshly ground pepper
4 skinless cod fillets (4 ounces each)
4 ounces snap peas, trimmed and thinly sliced on the bias
1 teaspoon fresh lemon juice, plus 4 lemon wedges, for serving
Extra-virgin olive oil, for drizzling
Instructions
In a large saute pan with a tight-fitting lid, bring broth, onion, 1½ cups tomatoes, potatoes, basil sprigs, red-pepper flakes, and 2 teaspoons salt to a boil over high heat. Reduce heat and simmer, uncovered, until potatoes are crisp-tender, 6 to 8 minutes. Season cod with salt and pepper, add to broth mixture, and cover, simmering about 7 minutes more.
Remove and discard basil sprigs. Add peas, remaining ½ cup tomatoes, and lemon juice to skillet, gently stirring to combine; cook just until warmed through. Divide fish, vegetables, and broth among 4 bowls. Garnish with basil leaves, drizzle with olive oil, and serve with lemon wedges.