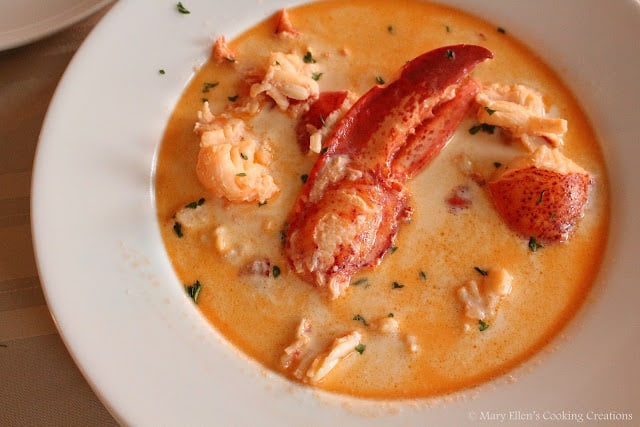 Maine Lobster Stew
Author:
http://www.maryellenscookingcreations.com/2016/02/maine-lobster-stew.html
Ingredients
5 each 1.5lb Maine lobsters
As needed, salt
12 Tbsp butter (separated, 8 Tbsp and 4 Tbsp)
1 cup medium or dry sherry
6 cups milk
2 cups heavy cream
1 pinch cayenne
1-2 pinches paprika
To taste, salt and freshly ground black pepper
½ tsp lemon juice
2 sprigs parsley, leaves only, cut into strips
Instructions
Directions, Day 1
Bring a very large pot of salted water to a boil
Plunge the lobsters into the boiling water and boil until just cooked through, about 4 minutes. Transfer to a bowl of ice-water to prevent them from cooking any longer, keeping them submerged until completely cool.
Drain the lobsters and separate the tails from the bodies, setting the bodies aside. Crack the shells and remove all of the meat from the tails and claws (keep the ripper claw meat whole for beautiful presentation!!). Chop the meat into large chunks (again, except that ripper claw); cover and store in the fridge until day 2.
Melt 8 Tbsp butter in a large heavy bottomed pot (he used our Dutch Oven) over medium-high heat. Add the lobster bodies and tail shells and cook, stirring often, until the shells turn a deep red, 5-8 minutes.
Add sherry and boil for 2 minutes, and then add the milk and cream and return to a boil. Reduce heat to medium-low and simmer, stirring often, until milk and cream reduce by one-quarter and thickens slightly, 20-25 minutes. Add cayenne, paprika, and season to taste with salt and pepper. Remove pot from the heat and set aside to cool. Once cool, cover and refrigerate overnight.
Directions, Day 2
Strain the milk mixture into another medium pot, discarding the bodies and solids, and bring it to a simmer over medium heat. (My husband notes that the next time he makes this he will heat the mixture just a touch before straining in order to soften any of the fats to save them from being discarded).
Meanwhile melt 4 Tbsp butter in a large skillet. Add the lobster meat and heat until warmed through, 3-5 minutes, and then transfer the meat to the pot with the milk mixture.
Add lemon juice and adjust seasonings.
Divide stew between 6 bowls (this made more like 8 servings) and garnish with parsley.