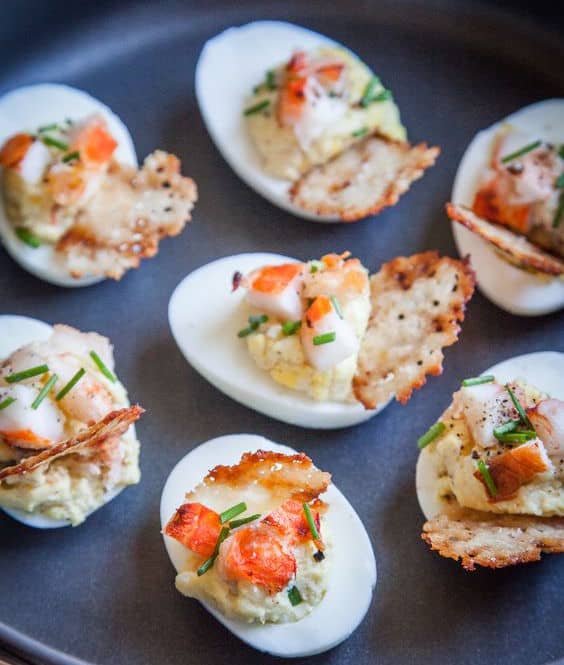 Lobster & Chives Deviled Eggs
Author:
https://www.anolon.com/recipes/ingredient/seafood/lobster-chives-deviled-eggs-truffle-salt-parmesan-crisp/?utm_source=Pinterest&utm_medium=social&utm_term=HH%20-%20Lobster%20and%20Chive%20Deviled%20Eggs&utm_campaign=sm-recipe
Ingredients
Deviled Eggs:
1 6-ounce lobster tail
12 large eggs
4 tablespoons unsalted butter , melted
3 tablespoons mayonnaise
1 teaspoon mustard
½ teaspoon kosher salt
½ teaspoon fresh ground pepper
2 tablespoons dry vermouth
Parmesan Crisps:
½ cup grated Parmesan cheese
To Assemble:
2 tablespoons chopped chives
2 teaspoons truffle salt
Fresh ground pepper, to taste
Instructions
Fill a medium sized Anolon® saucepan halfway up with water and salt it heavily. Bring to a boil. Place the lobster tail in the pot of water and cover it. Cook for 6 minutes, then remove from the pot. Let cool, then cut open the shell and extract the meat. Chop the meat into ½-inch chunks, and set aside half the meat. Continue to chop the remaining half of the meat until it is finely chopped into small bits.
Hard boil the eggs by first adding ½ inch of water to the bottom of the Anolon® nonstick covered 3-quart sauté pan. Bring to a boil then add the eggs to the pan carefully. The water should not cover the eggs. Cover the pan and lower the heat to medium low. The water should be at a simmer but not be full boil. Let the eggs cook for 13 minutes.
While the eggs are cooking, preheat the oven to 400˚F to make the Parmesan Crisps. Line a baking sheet with parchment paper and sprinkle 1 teaspoon of Parmesan in a mound onto the paper. Flatten with your fingers into a disk about 1½-inches wide. Repeat with the remaining Parmesan, setting the disks about 1 inch apart. You should have 24 disks. Once the oven is heated up bake the Parmesan for 3 to 4 minutes or until the edges of the disks are dark brown. The inside of the crisp may still be lighter colored. That's fine.
Once the eggs are done cooling off, crack the eggs and peel them under cold running water. This will help the shells come off easier. Cut each egg in half and remove the yolks into a bowl.
In the bowl with the yolks add the butter, mayonnaise, mustard, salt, pepper, vermouth and the finely minced lobster meat. Mash the egg yolks together with the ingredients until a paste forms. Spoon the deviled egg yolks back into the egg whites.
Add a couple pieces of the reserve chopped lobster meat on top of the yolk mixture. Add a few chopped chives on top of each egg and then sprinkle a small pinch of truffle salt and fresh ground pepper as well. Finally peel off a Parmesan crisp from the parchment paper and break off most of the dark brown parts around the edges of it. Garnish each egg with a Parmesan crisp and serve immediately.
To See the full recipe page please visit: https://www.anolon.com/recipes/ingredient/seafood/lobster-chives-deviled-eggs-truffle-salt-parmesan-crisp/?utm_source=Pinterest&utm_medium=social&utm_term=HH%20-%20Lobster%20and%20Chive%20Deviled%20Eggs&utm_campaign=sm-recipe