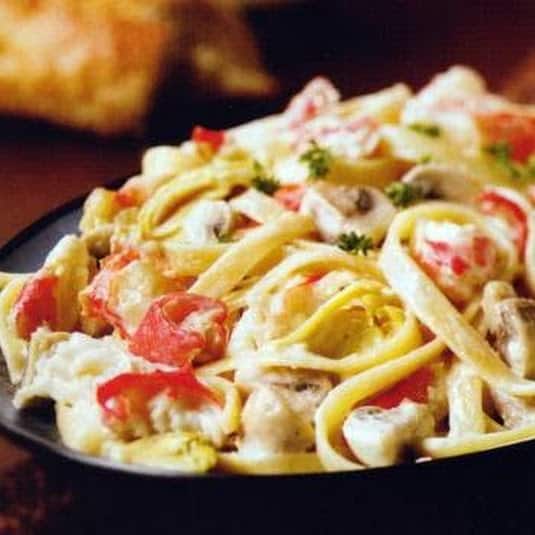 King Crab Fettuccine Alfredo
Author:
https://www.keyingredient.com/recipes/98015/fettuccine-alfredo-with-king-crab-leg-meat/
Ingredients
¾ pound fettuccine
2 tablespoons butter
2 tablespoons garlic, chopped
10 button mushrooms, quartered
12 canned artichoke heart halves
¼ cup dry white wine
1 pint heavy cream
½ cup Parmesan cheese, grated
1 pound king crab leg meat
2 tablespoons fresh parsley, chopped
Instructions
Cook fettuccine according to package directions. Drain and reserve.
Heat butter in a large saute pan over medium heat. Add garlic and saute for 30 seconds.
Add mushrooms and saute until lightly browned. Add artichokes and toss with mushrooms and garlic.
Deglaze the pan with wine for 30 seconds. Add cream and Parmesan; simmer to reduce and thicken for 1-2 minutes.
Add crab and reserved fettuccine and toss to thoroughly heat and coat.
Divide among 4 pasta bowls or plates and sprinkle with chopped parsley.