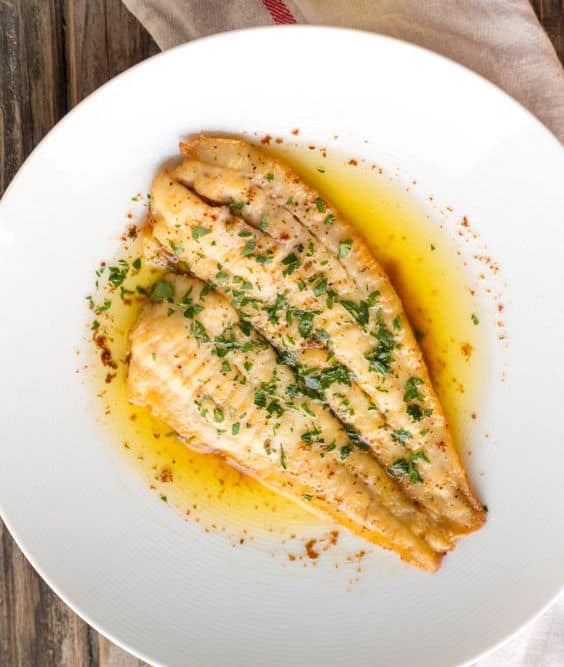 <iframe width="560" height="315" src="https://www.youtube.com/embed/e4_AOclIZLo?rel=0&showinfo=0" frameborder="0" allowfullscreen></iframe>
FLOUNDER MEUNIÈRE
Author:
http://coleycooks.com/flounder-meuniere-video/
Ingredients
4 nice sized filets of flounder (4-6 oz each)*
Salt and pepper to taste
3-4 tablespoons olive oil**
All purpose flour for dredging (2-3 cups)
6 tablespoons salted butter
1 sprig fresh thyme (optional)
1 lemon, plus more wedges for serving
2 tablespoons finely minced fresh parsley
Instructions
Pat the fish filets dry with paper towels, then season both sides with salt and pepper. Pour enough olive oil to generously coat the bottom of a medium-large saute pan and place over high heat.
Working with one filet at a time, lightly dredge in flour and shake off any excess, then gently lay it into the hot oil. Let it cook for about 2 minutes, or until the edges start to turn opaque. Use a fish spatula to carefully flip it over, and allow it to cook for another minute or two on the other side (time will depend on the thickness of your filets). Repeat with the remaining fish.
Pour out the oil, wipe out the pan and lower the heat to medium. Add in the butter and let it cook until it starts to turn golden brown and smells nutty, about 4 minutes. Toss in the thyme sprig (if using) and stand back because it will spit and spatter. Then turn off the heat and quickly squeeze in lemon juice and shake the pan around to incorporate.
Place one filet on each plate and pour the butter sauce over top. Sprinkle with parsley and serve immediately with more lemon wedges on the side.