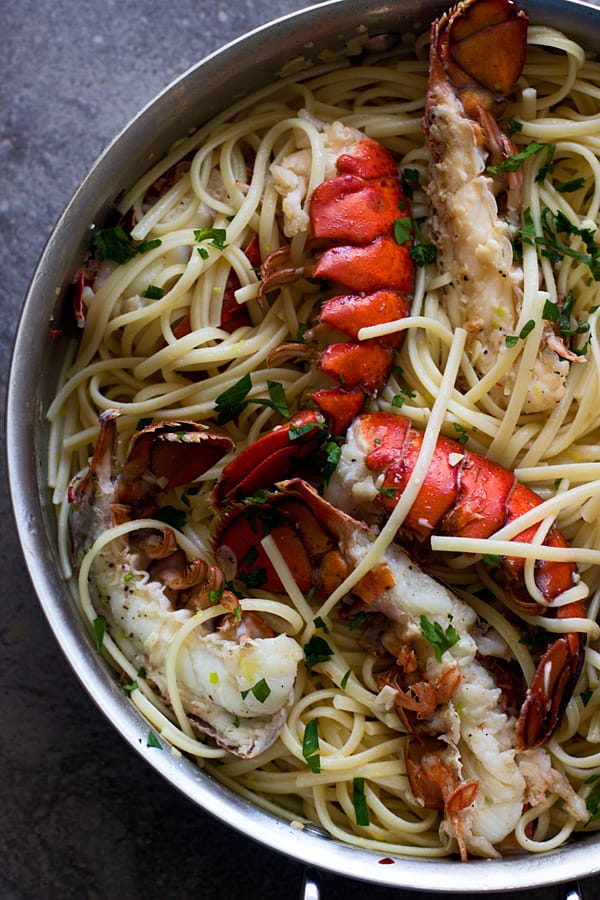 Spaghetti with Mussels, Lemon, and Shallots
Author:
cooking for keeps - http://cookingforkeeps.com
Ingredients
1 pound linguini
4- 5 ounce lobster tails
6 tablespoons of butter, divided
10 garlic cloves, chopped
4 tablespoons lemon
2 teaspoons lemon zest
½ teaspoon red pepper flake
¾ teaspoon salt
1 tablespoon olive oil
2 tablespoons chopped flat-leaf parsley, plus more for garnish
Instructions
Bring a big pot of water to a rolling boil. Season liberally with salt. It should taste like the sea. Cook until just under aldente. Reserve cooking liquid.
Using kitchen shears, cut each lobster tail length-wise so there are two equal pieces and the flesh is showing. Season flesh with salt and pepper.
In a large saute pan, add four tablespoons of butter over a medium heat. Once it's melted add lobster tails and garlic. Cook lobster tails shell side down for 1-2 minutes until they start to turn slightly red, spoon some of the garlic and butter over the flesh as it cooks. Flip so that the lobster is flesh side down, make sure it cooks in the butter and garlic. Cook another 1-2 minutes until shell is bright red and meat is white. Do not overcook!!!
Remove lobster tails, trying to get off all the garlic off. Remove meat from the shells and chop into bite-sized pieces. Set aside.
Add remaining butter to the pan along with lemon juice, lemon zest and red pepper flakes. Add linguini and salt, toss to coat and add olive oil.
If needed add starchy pasta water to loosen the sauce up.
Add lobster and parsley back into the pasta. Toss.
Season with salt and pepper.Garnish with chopped parsley.