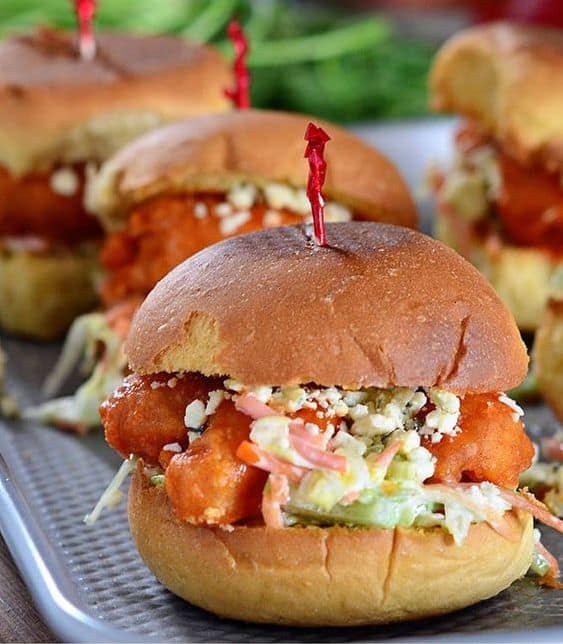 Buffalo Shrimp Sliders
Author:
http://tidymom.net/2016/buffalo-shrimp-sliders/
Ingredients
1½ cup McCormick Beer Batter Mix
½ tsp. McCormick® Celery Salt
¼ tsp. McCormick® Ground White Pepper
¾ cup beer or water
1 lb. large shrimp, peeled and deveined
Vegetable oil (for frying)
½ cup buffalo wing sauce
8 dinner rolls
1-2 tablespoons butter
1 cup shredded iceberg lettuce
½ stalk celery, sliced
¼ cup shredded carrots
3 tablespoons blue-cheese dressing
¼ cup crumbled blue cheese
Instructions
to fry shrimp:
Pour oil into deep fryer or large heavy skillet, filling no more than ⅓ full. Heat to 350°F on medium heat, using a cooking thermometer to maintain temperature.
Mix celery salt, white pepper and batter mix together and dredge shrimp in dry mix, shake of excess and set aside. Add beer (or water) to remaining batter mix and whisk until smooth. Dip shrimp into batter, shaking off excess. Fry shrimp in batches, drop in hot oil and fry on each side until golden brown, about 2 minutes per side. Remove with slotted spoon and allow to drain on paper towels.
buffalo shrimp sliders:
Heat the broiler. Slice dinner rolls in half, place cut side up, on a baking sheet. Butter each half and place under broiler until lightly toasted.
In a medium bowl, toss fried shrimp with buffalo wing sauce until well coated.
Using a medium bowl, toss lettuce, celery, and carrots with dressing. Divide the mixture over the bottom halves of the rolls.
Place buffalo shrimp over lettuce mixture, sprinkle with blue-cheese crumbles, and place roll tops, toasted side down and serve immediately.
View more detail about this recipe: